Hotel Chocolat expands at Chantry Place with new cacao-filled pitstop
News: 7 July 2022
Back to news
We will hand you over to Hotel Chocolat to tell you their plans…
We are delighted to announce the relocation of our Norwich Store. This latest relocation, which opens on Tuesday 19th July at Chantry Place is part of Hotel Chocolat's mission to make people happy, bringing you chocolate that is more exciting, more beautiful and – more importantly – made according to our mantra: 'More Cacao, Less Sugar'. The relocation forms part of our ever-growing portfolio, which has over 150 locations across the UK, Channel Islands, Japan, and the US.
Our co-founders Angus Thirlwell and Peter Harris built Hotel Chocolat on three unwavering pillars: authenticity, originality, and ethics. We are one of the few chocolate makers to grow our own cacao, on an eco-conscious cacao farm in the grounds of our Saint Lucian boutique hotel Rabot (yes, you can stay there too!)
Here at Hotel Chocolat, we connect the world of sustainable cacao agriculture with the hedonism of top-quality chocolate. "This makes us unique in the UK and gives us an unrivalled understanding of what impacts the taste and experience of our chocolate, right from the growing tree through to our packaging, which we're working to make 100% reusable, recyclable or compostable by 2022. More than just bean-to-bar, we call it 'roots-to-wrapper'."
— Angus Thirlwell, CEO and Co-founder
The Chocolate
We're obsessed with cacao. We make all our chocolate in accordance with our mantra, 'More Cacao, Less Sugar' for a deeper taste and chocolate that satisfies with less. Our house white chocolate contains 36% cacao – more than you'll find in many milk chocolates – while our house milks are 40% and 50% and our house dark is 70%.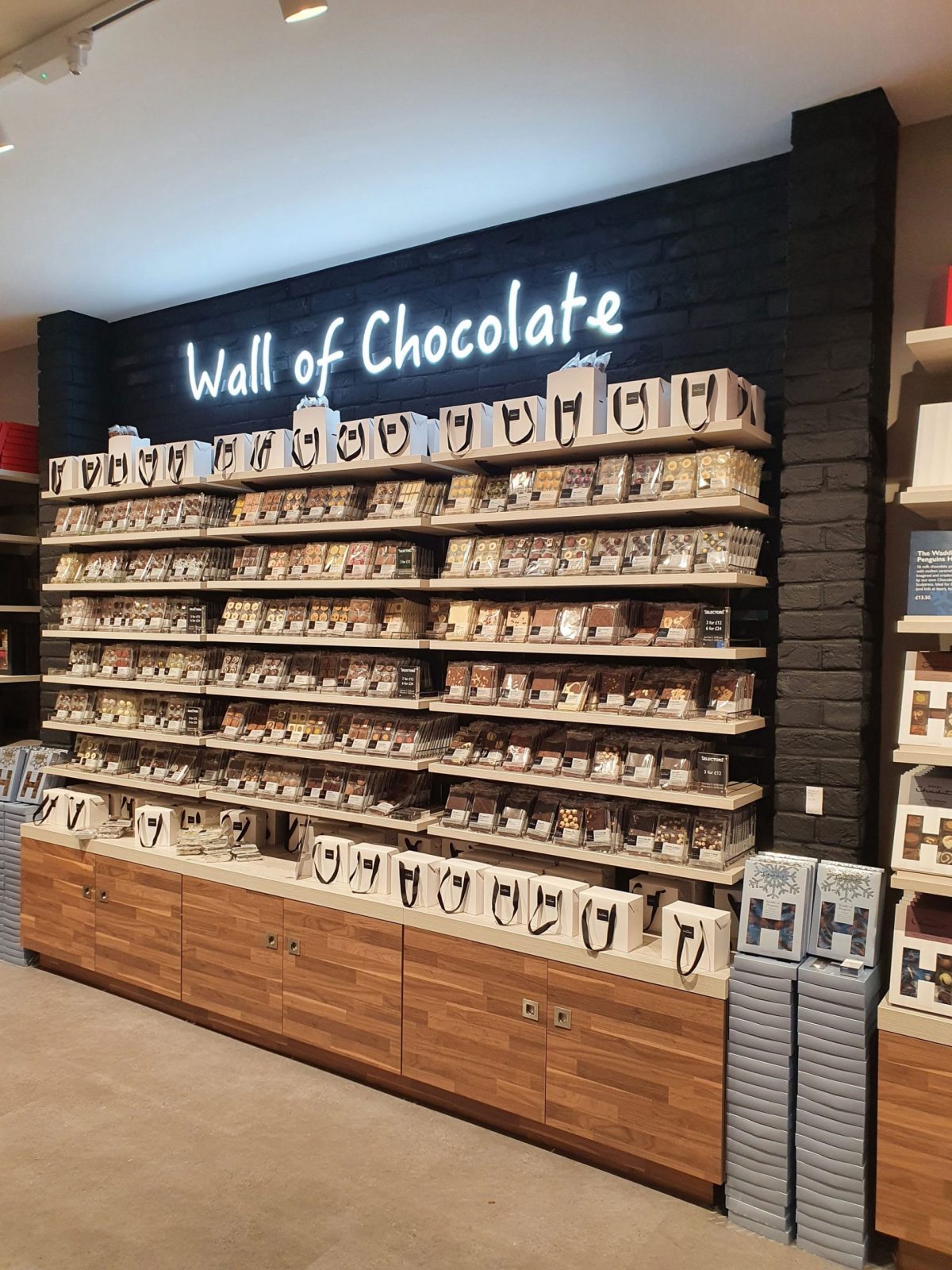 The Selector Wall of Chocolate
"The old fashioned 'glass cabinet' method of offering chocolate always struck me as a power imbalance between the chocolatier and the customer. So, in the first Hotel Chocolat, I designed a customer-powered alternative. You could take as long as you want, choosing from a massive chocolate library that was easy to navigate and clearly labelled. We called it our Selector Wall of Chocolate and it was an immediate hit."
– Angus Thirlwell, Co-founder
What is a Selector? It's a set of six individual chocolates or a single, fluid chocolate slab wrapped in a utilitarian, simple way – so all the investment can go into the quality of the ingredients. We chose the Selector Wall of Chocolate as a contemporary response to the traditional glass counter. Here you can linger for as long as you like, unhurried and in complete control, inspecting each option up close, learning about the recipe, cacao content and provenance of ingredients, before making a decision that you feel not just content with, but genuinely excited about. A decision that's bespoke to you – or to someone you love.
Gifting
Individually trimmed with a seasonal red ribbon or presented together in a chic hamper or sleek concierge bag, give your gifts in style. Chosen by you and assembled by hand, your gifted items will be presented in a chic gift bag or box. We also have sleeves tailored to your special occasion and ribbon-tied bags to take away. Going straight from Hotel Chocolat to special event is utterly effortless.
Drinks & Ices
Let the door fall shut on the hustle and bustle of the outside world. Breathe in the heady scent of hot chocolate. You've stepped into your sanctuary: the cacao-fuelled pitstop that is the Drinks & Ices location at your Hotel Chocolat. Set down your shopping bags and sink into your seat, hands wrapped around a restorative drink, your choice of brownie, biscuit, granola, or savoury snack on the tabletop in front of you.
Your Norwich Hotel Chocolat will also serve our cacao-infused Ice Cream of the Gods, which is exclusive to select locations. Made with Jersey milk and cream infused with Theobroma cacao nibs – direct translation 'cacao, food of the gods' – it's no wonder it tastes so heavenly!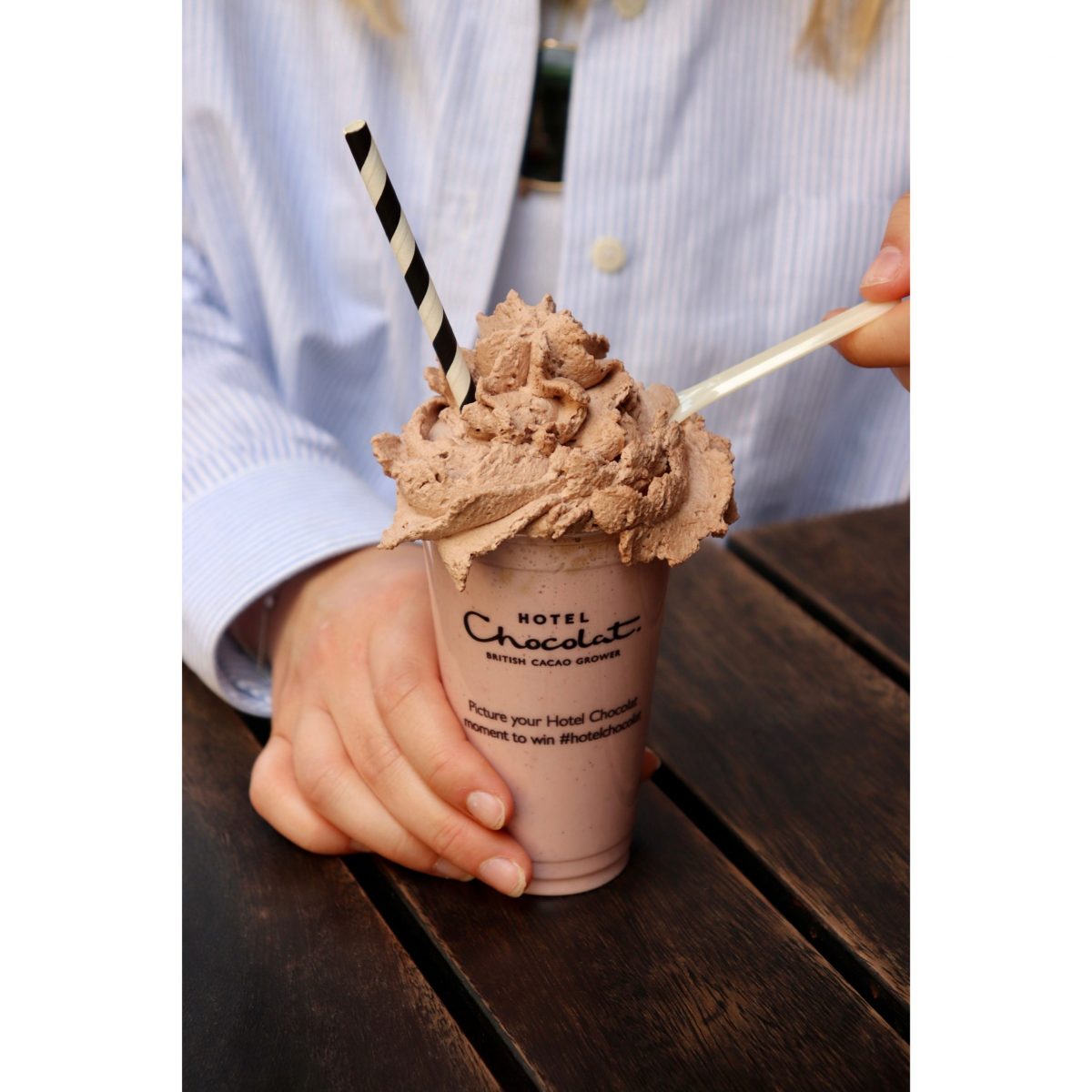 Other Innovations
Part of our fascination with cacao is with its untapped potential. Not only do we use the bean in our bold and inventive chocolate recipes, but we also use the delicate shells that wrap each bean, the lychee-like pulp from cacao pods and the nibs themselves in drinks, ice cream and more. Instead of letting those precious shells go to waste like so many other chocolatiers, we looked closer and found that they're brimming with malty notes. They're what infuses our award-winning Salted Caramel Vodka and Cocoa Gin. We've also married alcohol with the finished article, melting our chocolate straight into vodka and cream so it could sing through our Chocolat Velvetised Cream.
Inspired by not only cacao but all the glorious flora that flourish on our Saint Lucia estate, we've also created the eponymous Rabot Beauty, a beauty range like no other: lip balms, body butters, body mists and beyond which capture the essence of our organic, eco-conscious paradise.
Paul McCarthy, general manager at Chantry Place, comments: "This news is set to delight our chocolate-loving customers who will be able to drop in for a tempting treat and drink while shopping or meeting friends. This expansion is fantastic news for the Centre and for Norwich, with Hotel Chocolat investing in the city. We're sure the smell of incredible hot chocolate will tempt many people through the doors. This is just the latest, and not the last, in exciting news for the Centre."
Welcome Offers
The first 10 customers through the door will be treated to a £20 voucher to spend in-store.