Shop sustainably at Chantry Place
News: 2 August 2022
Back to news
We are all aware of the importance of ensuring our planet is looked after, and that making small changes to our everyday lives can have a large and positive impact on our world. That's why at Chantry Place many of our retailers have sustainable products and initiatives that help the environment.
Read our round-up below of some of our favourites…
Retailers
Sustainable health products
In Flying Tiger, you can find reusable cotton pads! Perfect for cleansing your face, all you have to do is wash them with soap and water and they can be used again.
You should replace your toothbrush every six months, so if you're looking for a new one, why not try a bamboo toothbrush that can be found in our Superdrug store? Bamboo is a sustainable material and reduces the use of plastic, so it's a small and simple change to make!
Perhaps you're currently looking for a new mascara? Recently launched, Naked Mascara by Lush is made from a mixture of butter and waxes to create a solid product that doesn't require plastic packaging! Their new eco-friendly and recyclable mascara is available in four shades, Orca (black), Earth (brown), Reef (coral), and Ocean (blue) and you have a choice of three wands with your purchase.
Finally, in our Boots store, located on the lower ground floor, you can find 0% plastic nappies! Again, nappies need to be changed regularly so our little ones are as comfortable as possible, so purchasing plastic-free ones is a great way to reduce plastic waste.
Boots also have a section of other sustainable products, including kitchen accessories such as sponges, as well as tampon alternatives and sanitary towels.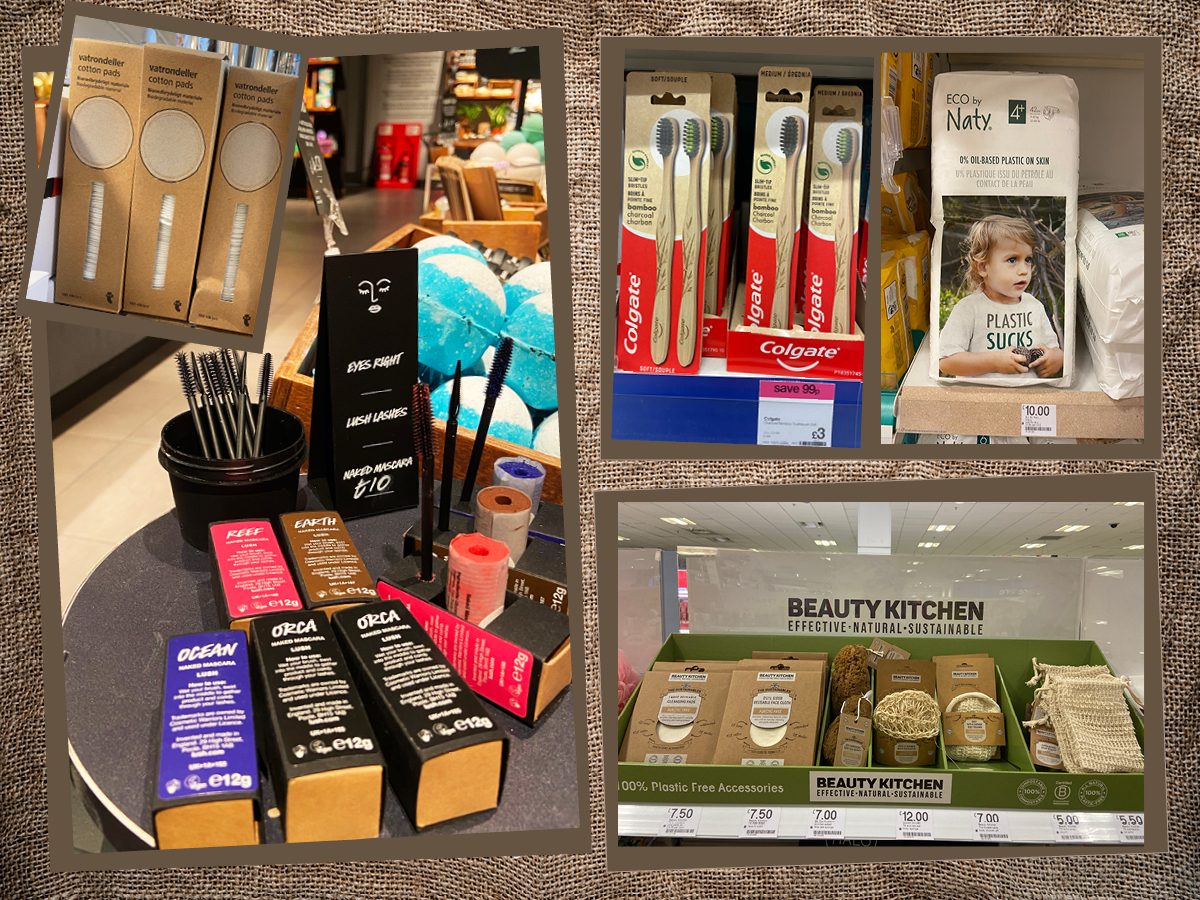 Sustainable fashion products
With so many brands on the high street, it can be hard to keep up with what brands are doing to become more sustainable and what initiatives they have to benefit our planet.
Both River Island and H&M have a great scheme that enables customers to drop off bags of clothes, from any brand, in exchange for a store voucher!
In addition to the voucher exchange scheme, H&M has a conscious collection and a points scheme that rewards customers' conscious choices. Every time you bring your own bag, members of the free app will receive 3 conscious points and 20 points when they drop off a bag of old clothes (as well as the £5 voucher!) Conscious points result in discounts and other offers. Its conscious collection can be found across all departments, all year round! Just look out for a green tag! Each conscious product contains at least 50% of more sustainable materials such as organic cotton or recycled polyester.
River Island is also a part of the Better Cotton Initiative that exists to make global cotton production better for the people who produce it, for the environment and the future. The initiative trains farmers on how to use water efficiently, care for the soil better, reduce dangerous chemicals and respect workers' rights.
Finally, our Levi's store has its very own tailor shop! Creating denim products uses a lot of water and energy, therefore it's vital to the environment that we upcycle and look after it. Denim is a hardwearing material and can last for many years, but naturally will get worn down. However, at our Levi's store, you can get your denim pieces looking brand new!
The expert tailors can upcycle, repair or patch up your old denim and give it a brand new lease of life. Find our Levi's store on the upper ground floor, next to Boux Avenue.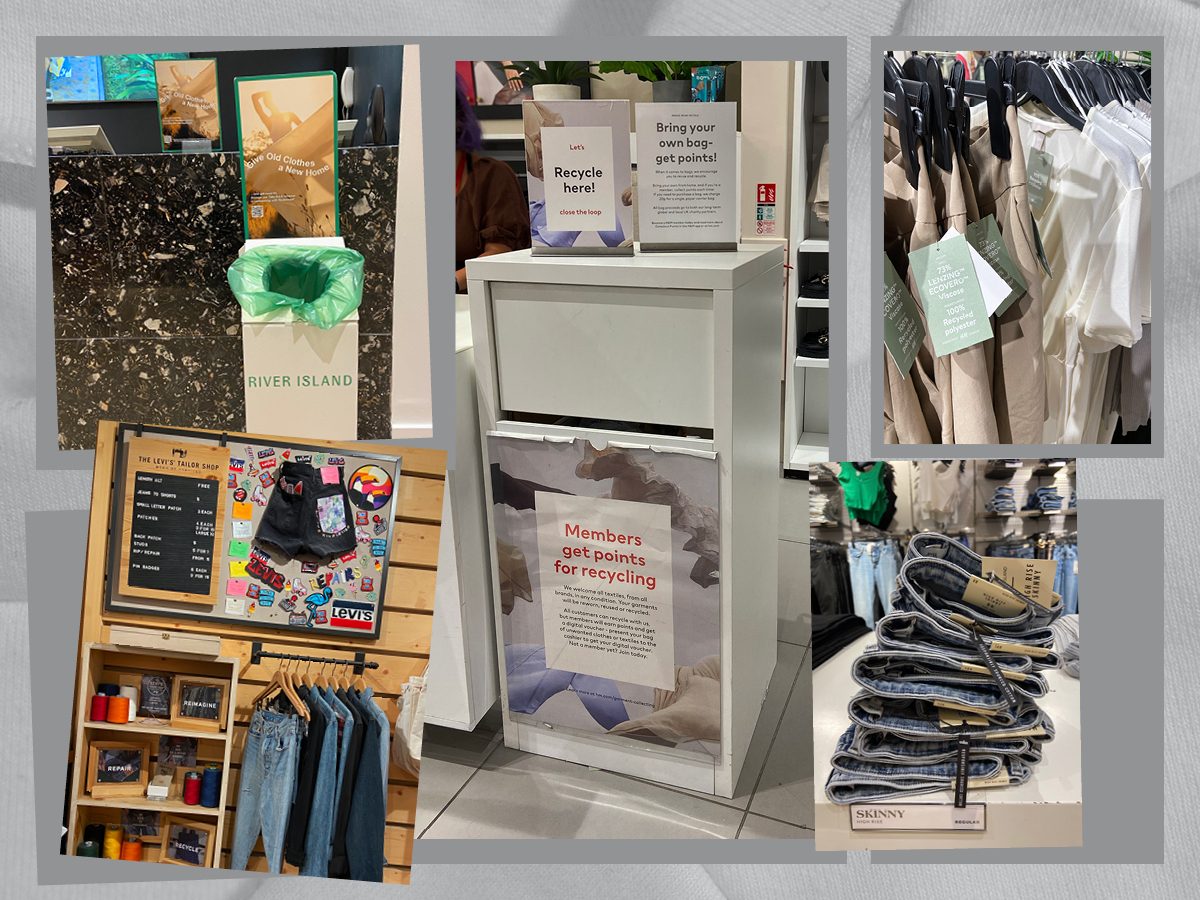 Sustainable bags
We all know that the use of plastic bags isn't good for the environment, and many retailers and companies try to encourage people to bring their own bags. Well, thankfully for our customers, many of our shops stock a variety of different reusable bags!
At Oliver Bonas, they have a NIKI NET reusable shopping bag, perfect for popping into your handbag and using when you make purchases!
In Flying Tiger, they have a "reuse, reduce, dance, recycle, repeat" pattern canvas bag that you can pop on your shoulder and take out with you whenever you're shopping. Also they stock storage nets – these are perfect for when you're food shopping. Rather than buying fruit and veg wrapped in plastic or using mini plastic bags, why not buy the individuals and pop them in these small net bags?
Finally, our Lush store stocks both knot wrap reusable packaging and wax wraps! Of course, having a bag that you can reuse is great, but wax wrap is also a fantastic, sustainable and eco-friendly product and can last up to a year if well looked after. Wax wraps are great for keeping food or other products fresh, instead of clingfilm.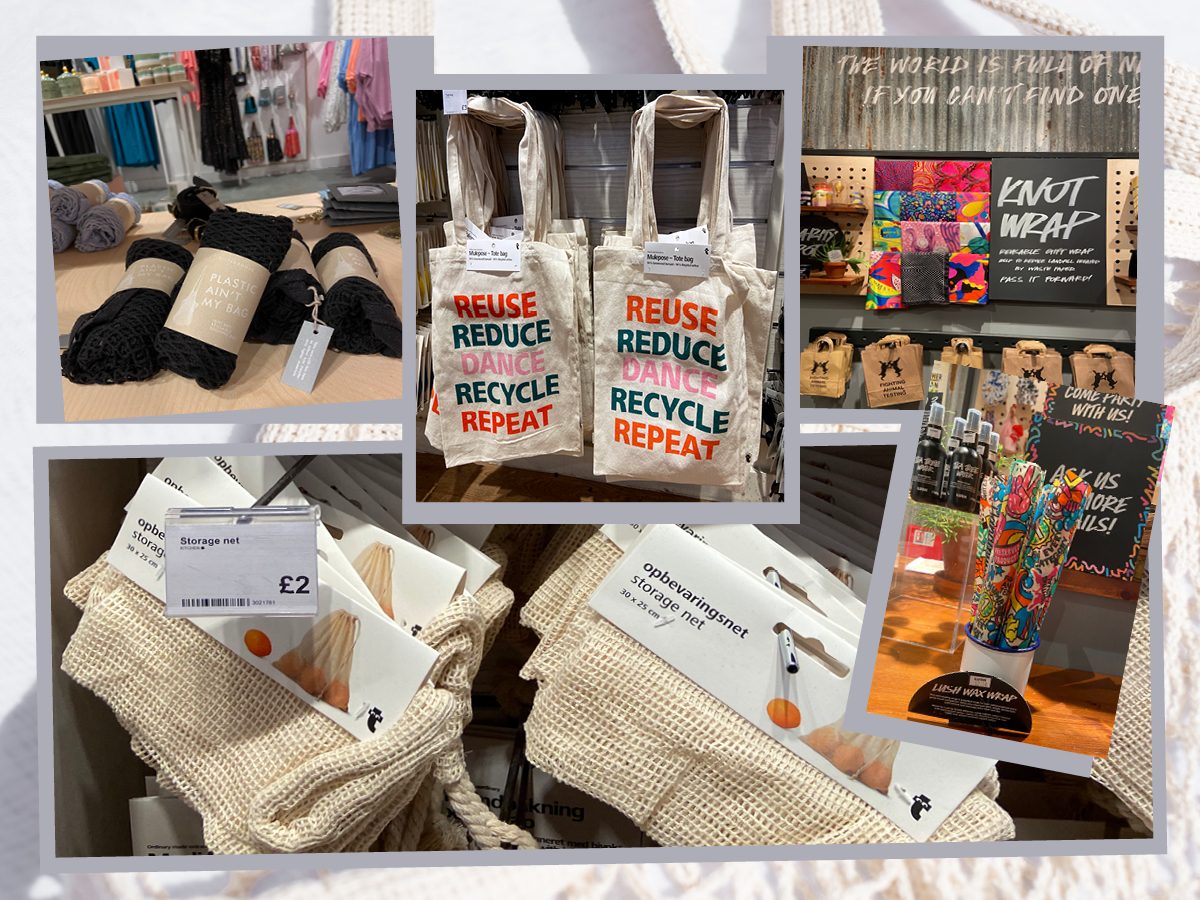 Refillables
Many places are taking a similar stance on reusing packaging as what they have with reducing the use of one-time plastic bags, and a number of our retailers have jumped on board to do their part!
Our Bullards Spirits store has an eco-refill pouches scheme which encourages customers to become sustainable, enjoy the gin and savour the bottle!
Their bottles are designed to last a lifetime, so every bottle you reuse will help reduce the impact on the environment. Their Eco-Refill Pouches use less energy to produce, transport and deliver.
When it's time for a refill, simply purchase an Eco-Refill Pouch when it's time for a top-up, and then pour the gin from the pouch into the Bullards Bottle for Life, and enjoy!
Once you've finished with the pouch, you can pop it in the post box (no stamp or envelope required) and it will be returned, recycled and transformed into a new product.
In our Boots store, you can find soap and shampoo refills and save on purchasing plastic goods – a small, but mighty change that can make a difference.
Finally, you can take back pots and packaging to be recycled at Lush and receive 50p per pot! A great little incentive for our customers to take part in and do their bit.
As a Centre, we also do our best to be as sustainable as possible. At Chantry Place, sustainability centres around three core themes; the planet, people and place. Paul McCarthy, our general manager, discusses the importance of sustainability… please read more, here.