Christmas toys at Chantry Place and Hamleys top 10
News: 1 November 2021
Back to news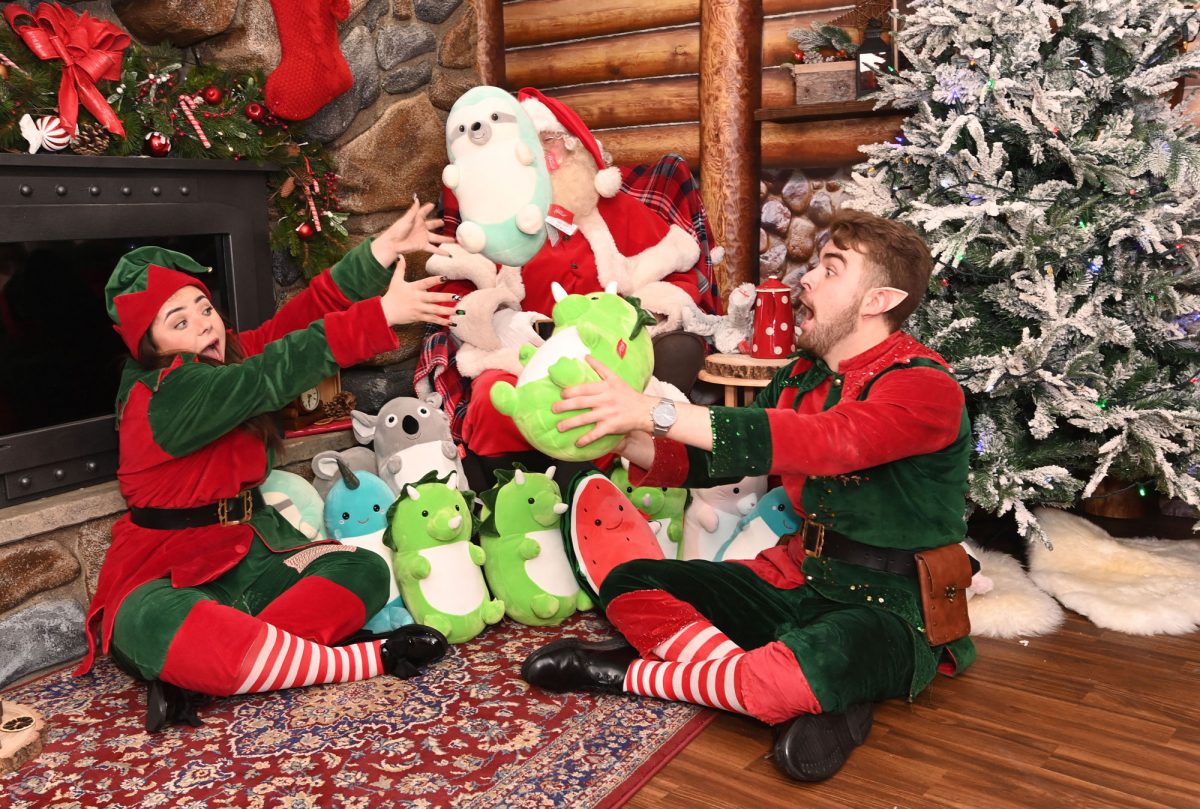 Chantry Place is the Place to shop for toys this Christmas with Hamleys, Langleys, Build-a-Bear, Smiggle, Flying Tiger and many more brands in the Centre to shop the perfect gift.
Read on to discover Hamleys top 10 toys for 2021 and discover the very cute Grinch at Build a Bear for those feeling a bit frosty this winter…
Plus, we also caught up with some of our retailers too to find out what will be top of the Christmas list!
Chris Goulding, manager at Langleys at Chantry Place said: "Lego is popular all year round and the Star Wars and Harry Potter are selling quickly this year. Big Jigs is similar to Brio but is cheaper and we have a big collection in the store and people love wooden toys. Depesche sticker books, notebooks, colouring and activity books are flying off the shelfs and new products are being constantly delivered to us. Our robotics range of wooden models is selling fast and we have a price range for everyone – there is wind up ones, terminator guns, windmills, music boxes and many more, and it is great for ages 14+. Family games and puzzles are also proving popular too."
Daryl Naulls, manager at Hamleys at Chantry Place said: "LOL and Barbie are proving popular, as is our fishing game which has already sold out a few times in store and is not as easy as it looks! Speed Monopoly is good fun for everyone and the Lego technic control cars, which you can then drive on an app are going down really well. The wooden theme continues to be strong and Paw Patrol toys keep selling out too. We are constantly getting new stock in and people love our own brand toys that they can't buy anywhere else. Plus, a lot of people have been buying our London buses and Hamleys bears and say it reminds them of their own childhood and memories of visiting Hamleys. There may also be an elf popping in at Christmas!"
Hamleys Top Ten Toys for Christmas 2021
Playmobil 70571 City Action Police Special Operations Police Robot £20
Become a special operations police robot for playtime and save the day with this Playmobil offering. Complete with 'gripping arm', movable legs and an explosive device, this special action robot is sure to ignite imaginations and create some Christmas fun with friends, family and for solo play. The story-telling possibilities are endless! The playset contains two PLAYMOBIL figures, a police robot with movable legs and arms, explosive device, warning sign, helmet, gloves and many other extras.
Shifu Orboot (Earth): The Educational AR Globe £50
This year, let technology take your imagination all over the world whilst the AR Orboot Earth Globe does the travelling for you. Inquisitive minds can explore the world with the one of a kind 10″ globe with over 400 highlights and 1000 cool facts across 6 categories. With a dedicated app, it opens the magic of augmented reality, so children can learn about international cultures, cuisines, monuments, inventions, animals and maps, without ever leaving the comfort of home!
Magic Mixies Cauldron £70
The WOW toy of 2021, the Hamleys buying team have labelled Magic Mixies as one of the most innovative toys they've seen this year! Become a with or wizard and create real Christmas magic with the Mixies Magic Cauldron. Complete with all the ingredients you need, including an extra special wand, just mix the potion and create a cute, furry friend! Watch as your Mixie appears from real mist and tap their gem to see if they'll grant you a magic wish. Comes with over 50 interactive sounds and reactions.
Mattel – Barbie Dream House £310
Let them get lost in their own Barbie Dream World with the Mattel Barbie Dream House, measuring an impressive 3 feet tall and 4 feet wide. Sure to delight any child that finds this under the Christmas tree, in no time they'll be moving into 3 stories and 8 rooms of fun, with a working elevator and pool with slide – fill it with water for a real splash! Lights and sounds encourage their imagination and add realistic touches for enhancing role[1]play with friends and family. Children can also create their own life-like scenarios playing solo – there are endless possibilities for play! Features include: working elevator with room for 4 dolls or a Barbie doll in a wheelchair, a new home office, a carport and a second-story pool.
L.O.L Surprise Movie Magic Doll £11
Step into the spotlight and become a movie star for playtime with the all new L.O.L. Surprise! Movie Magic dolls. Ready to perform and show off their skills at the ultimate L.O.L. Surprise! movie set, each doll comes with a cue card and its own unique surprise movie scene. Let children's imagination run wild to create a magical movie universe with their new Movie Magic Dolls and use creativity to write secret messages, provided, or a whole new movie script!
Ralleyz Warrior 3 in 1 RC £90
Wake up their inner race-car driver with the exclusive to Hamleys Ralleyz Warrior 3-in-1 Race Car. Buckle-up and prepare for a rocky and riotous Ralleyz Warrior 3 in 1 ride! Play opportunities are endless; let them race against friends, family and in imaginary championships with bubbles, water and darts for added fun! Ralleyz Warrior 3 in 1 Race Car will be sure to become a firm favourite toy for Christmas and beyond.
LEGO Super Mario Adventures Luigi Starter Course £50
Let's meet Mario and Luigi off-screen this Christmas with the LEGO Super Mario Adventures with Luigi Starter Course, bringing Super Mario into the real-world for festive fun. Featuring a LEGO Luigi figure for fun interactive family or solo play, with colour sensor and LCD screen displaying instant reactions to movement. Including lights and sounds to enhance imaginative play, with the Luigi starter course teaming up is fun, so grab a friend or family member and earn extra digital coins by playing together in real-life social play.
Hasbro – Nerf Elite Flip 2.0 8 £25
Imagine a crazy real-life battle against your arch nemesis, and flip into action with the Nerf Elite 2.0 Flipshots Flip-8 blaster! The blaster features 8 barrels and just when your opponent's think you're out, you can take them by surprise by flipping with 4 more fully loaded barrels! The back-to-back barrels are connected, making it quick and easy to rotate them by pulling back the sight.
Huggables Range £20
Gift a new best friend this Christmas with the perfectly plush range of Huggables, exclusive to Hamleys. Experts in cuddly toys, Hamleys have created a whole host of new characters to meet in the soft toy department! Say hi to Hamleys huggable Avocado, Unicorn, Watermelon and Koala; all part of the super squishy, super-duper lovable new Huggables range, perfectly sized for the littlest of huggers.
Hamleys Dicii Snakes and Ladders £14
A traditional game for the whole family, bring together young and old this Christmas and pit your wits against one another for some classic 'together-playtime'. Snakes & Ladders is still a firm family favourite and will be sure to raise some smiles across the festive table all season long.
Our friends at Build-a-Bear have also released the Grinch toy! Celebrate the season with this green guy who knows the true meaning of Christmas! Straight out of Whoville, the Grinch makes a great gift for anyone on your list. Inside each Grinch is a special heart that's grown 3 sizes! The Grinch Gift Bundle comes with him wearing his own Santa hat too!