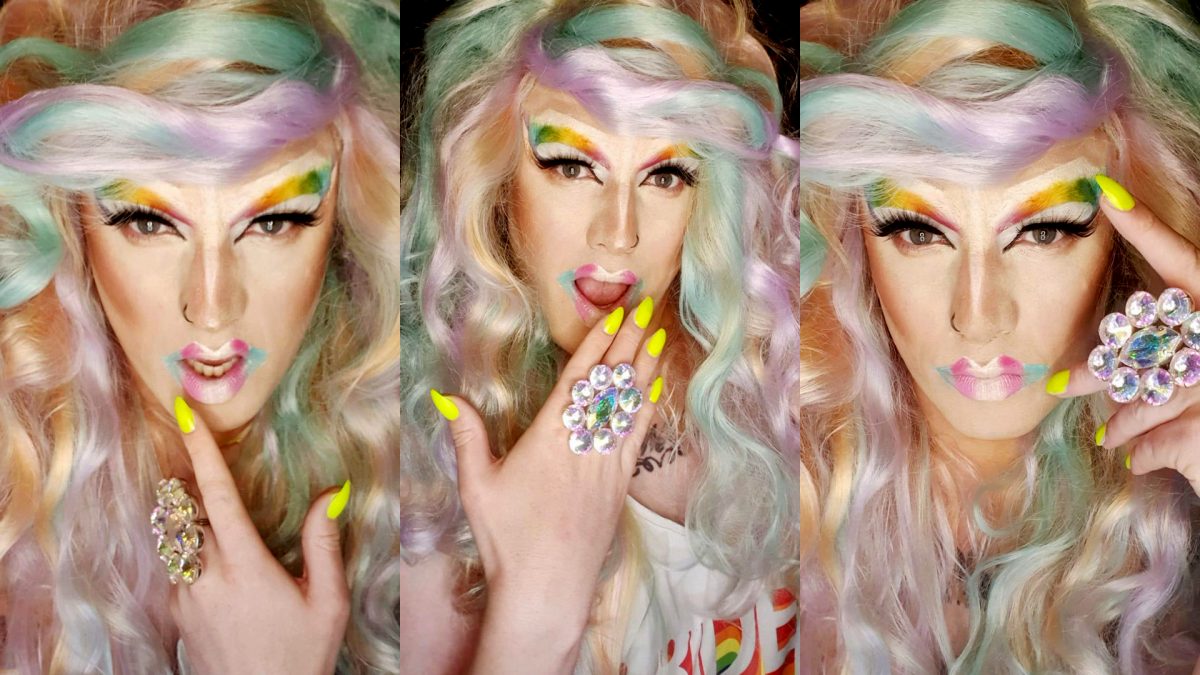 Meet Chris (he/him), our resident beauty expert at Chantry Place Norwich, for the summer. Chris is a bank worker by day and by night, Miss Crystal Lize. One half of drag performers: The Squirrels.
Over the coming weeks, Chris will be showcasing products from Chantry Place, creating bespoke looks, skincare routines for all and mainly having fun with what the shopping Centre has to offer here in Norwich.
How did you first get into drag?
I have always loved performance and, at a younger age when working at Butlins, moved from a performance role into a production role. Though the right thing for me then, I missed performing and so, encouraged by friends, I decided to try drag for the first time. I went to local party shops and bought a whole load of costumes and accessories to try it out and get a feel for it. It was love at first performance.
It has been and continues to be a real journey. My drag partner (Ms. Special K) has always encouraged me and it has taken time to evolve 'who' that persona is. I've gone from being told I look like "A builder in a dress" to refining my costume and make up to end up as I am today – Miss Crystal! I hope she always evolves!
What do you love about the Norwich drag scene?
Norwich has heart and feeling. So many diverse characters coming together with a lot of representation that has recently gone global (just think Bimini Babes championing the non-binary community on international TV!)
Being present at any Norwich LGBTQ+ events leaves you with hope and belief in having a platform to perform on and with.
How did you 'choose' your persona?
I wouldn't exactly say I chose a persona; Miss Crystal is simply an extension of who I am, who encompasses all my personality, but with a little bit more.
For me, drag is an armour, it's a way to project my eccentricities and showcase my outgoing side. If I want to be outrageous as Chris, I can channel it through Miss Crystal. It's also a great way to deal with hecklers, because they heckle my persona, not Chris.
What make up brands do you buy?
I love all make up and I purchase from the cheapest brands to high end, but if you had to force a favourite out of me, I adore NYX on the high street – available from Chantry Place at Boots and Superdrug.
For all my bases, I love Rimmel – you can't go wrong with their pan sticks! (also available at Boots and Superdrug).
Where do you shop for Miss Crystal?
Norwich is great for shopping and I love to buy from the high street; my favourite activity is to buy off the hanger and upcycle – and add that little bit of Miss Crystal to everything I wear!
A particular favourite of mine is H&M in Chantry Place, especially at Christmas when the sequins arrive!
Finally, what advice would you give anyone considering getting into drag
Just do it! Know that you are going to make mistakes and you might not look exactly how you hoped to, but start and go with it, stop worrying and evolve.
Everyone must start somewhere and look within your community – there is a whole host of friendships and advice to be had.
Follow Miss Crystal at