Meet Afternoon Tea-Rex and its artist
News: 14 July 2021
Back to news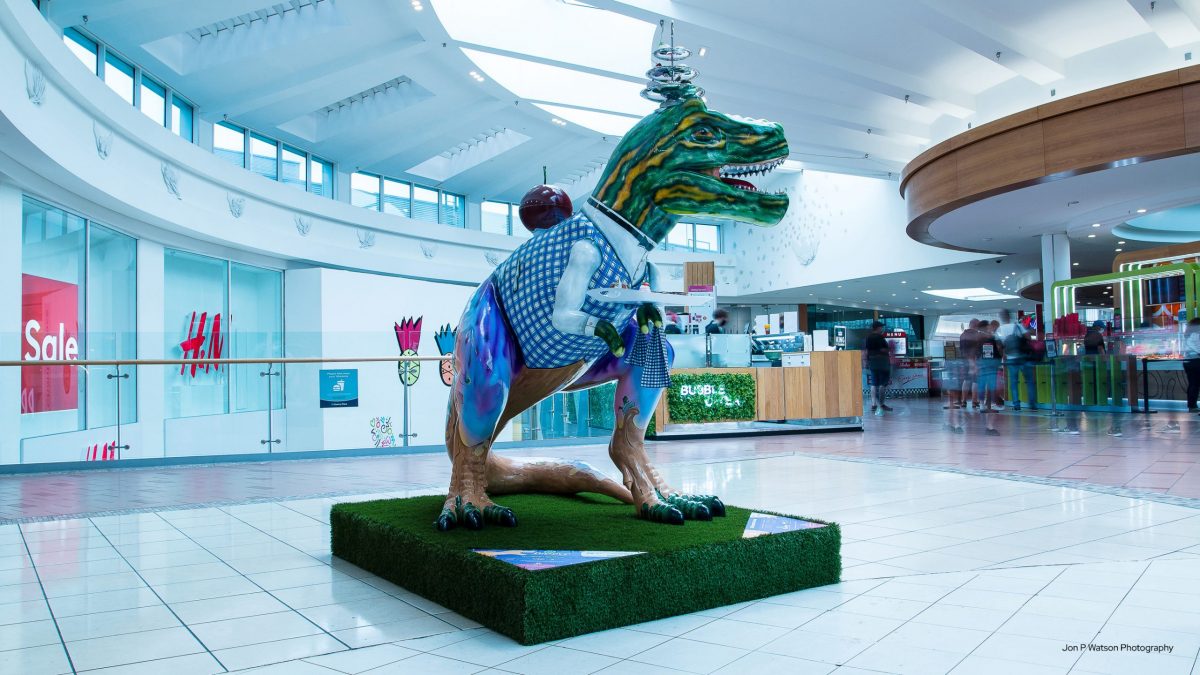 There's a new member of staff working on our Dining Terrace this summer – Afternoon Tea-Rex. Dressed in his Chantry Place waistcoat with a cake stand on his head, he really is a sight for saur eyes!
We are super proud to be a presenting partner and sponsor of Break's GoGoDiscover T.rex trail this summer, so that Break can continue to support young people on the edge of, in care or leaving care.
Whilst we have three T.rex at Chantry Place, we'd like to introduce you to Afternoon Tea-Rex, the T.rex we have sponsored and the artist who made him…
Aylsham-based artist Mik Richardson decorated the sculpture and it is the fourth time he has been involved with Break's charity trails, with his previous work generating over £68,000 for the charity.
We caught up with Mik, who said: "I'm delighted to once again produce art for Break – these are so much fun to do. Rex is a waiter, but, with his tiny little arms, he has to balance items on his head and back, so don't even consider asking him to pick up that dropped spoon from the floor!"
Although Mik has painted over 100 sculptures, Afternoon Tea-Rex is probably the biggest sculpture he has worked on. Taking roughly 10 days to produce, Mik used acrylic and emulsion paints to bring Rex to life, and added a real tea tray and cake stand – something that is proving very popular with little ones at the Centre!
GoGoDiscover is a charity sculpture trail delivered by East Anglian based children's charity Break, in partnership with Wild in Art. 21 large T Rex sculptures, decorated by local and national artists, are in Norwich until mid-September.
While the trail is free, people are encouraged to donate to Break, to allow them to transform lives of vulnerable children and young people across the region.
For more information about Break visit break-charity.org
Text TREX to 70085 to donate £3. Texts cost £3, plus one standard rate message. #GoGoDiscover