Supporting local causes – Norfolk LGBT+ Project
News: 14 June 2021
Back to news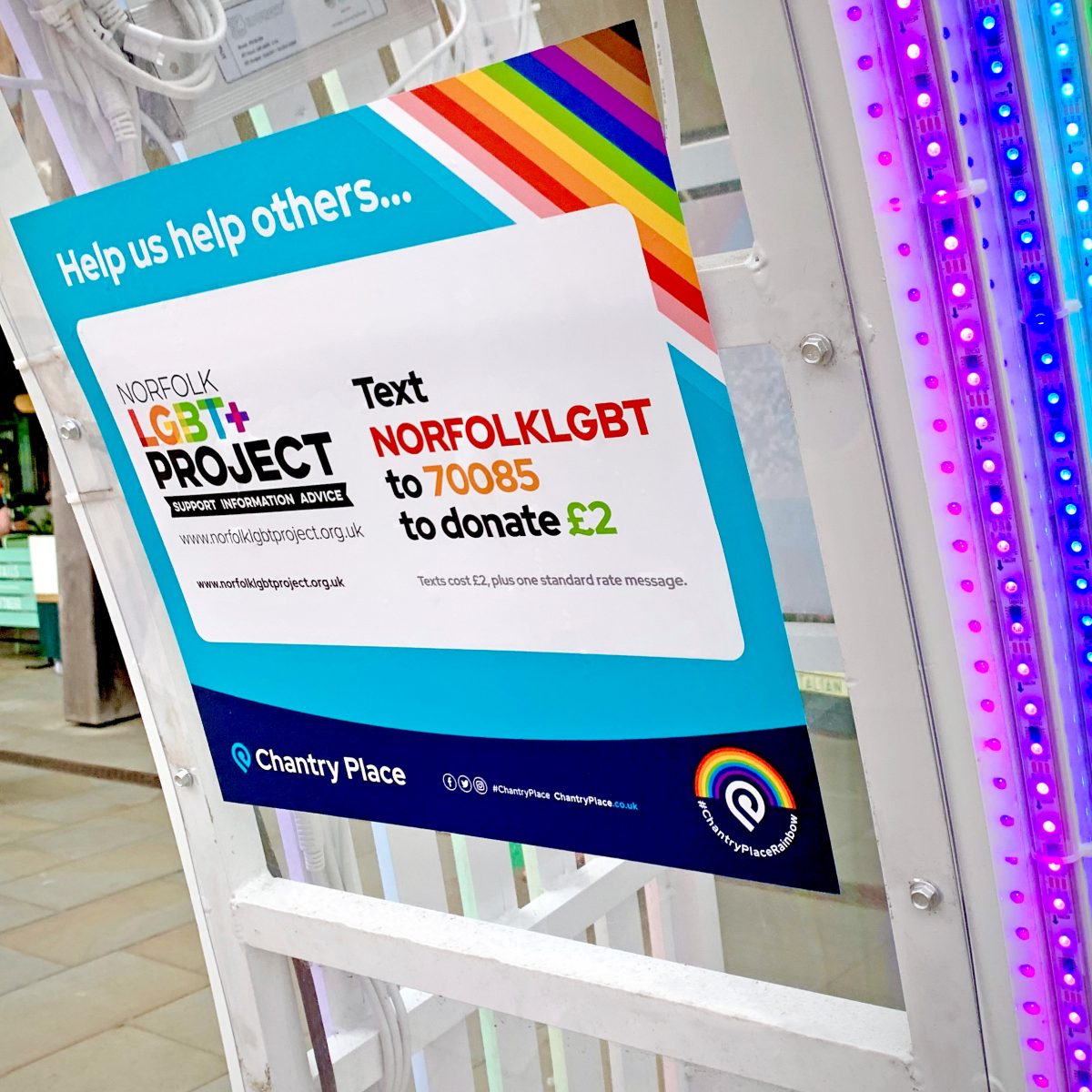 Working with local partners and being part of our local community is a priority for us here at Chantry Place. On your next visit to our rainbow on Chantry Square, spot some stickers on the rainbow, which show our continued support to the Jenny Lind Children's Hospital, part of the Norfolk and Norwich University Hospitals Trust, as well as the Norfolk LGBT+ Project.
We recently met with the Norfolk LGBT+ Project to find out more about what they do, so that we can all work towards an inclusive society.
Read on to find out more about them and see the sticker at the rainbow to text and donate to this inspiring cause…
Norfolk LGBT+ Project is a registered charity, providing support, information and advice to all age groups that is relevant to the health and wellbeing of the lesbian, gay, bisexual and transgender community in Norfolk and Waveney since 2007.
We were really inspired hearing them talking about how they want to bring supportive, empowering and non-judgemental services to people's lives to enable them to improve their wellbeing, and the work they do in assisting others in providing support to LGBT+ communities through its informative services, educational tools and resources.
Its services are for the community, by the community, and they champion the importance of local service provision that is informed, effective and compassionate.
Norfolk LGBT+ Project does this through one to one support, drop in groups, family support, counselling and training, and relies on a fantastic team of volunteers.
We love its 'Educating with Pride Award' – an annual service running since 2018, helping schools across Norfolk achieve a high standard of care supporting LGBT+ young people, staff, parents and the wider community.
To find out more, visit Norfolk LGBT+ Project | Support, Information, Advice